Cameo Pied White Eye Male
(Pavo cristatus mutation pied white eye and brown)
This mutation has patches of white replacing many of the normal colors of the Cameo. The white patches may be located anywhere on the bird. The male has a white throat patch under the lower mandible on the neck. The exterior of the wings and shoulders are barred with detailed brown on white. The tops of the shoulders are a grayish brown with white flaking. More select bred males will all have white centers in the eye train feathers. When Pied is bred to Pied, the theoretical genetic ratio of 1:2:1 should occur (25% White, 50% Cameo Pied White Eye, 25% Dark Pied). The Dark Pied resemble Cameo in appearance.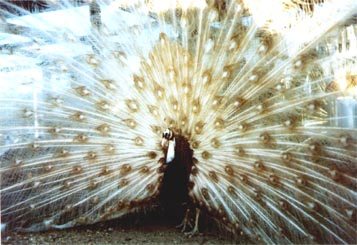 United Peafowl Organization | Peafowl.org
Average rating:
0 reviews