Cameo Female
Female – Dark dove gray. Crest, head and neck are charcoal. Body and wings are lighter charcoal. Abdomen is pale buff. No iridescence.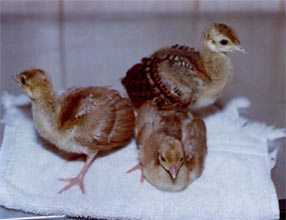 Cameo Chick
Peachick – Creamy tan.
Photo of chick on left and in center are Cameo and chick on right is an India Blue.
United Peafowl Organization | Peafowl.org
Average rating:
1 reviews
Dec 10, 2020
Contact Info:
1760 9631270
Hey I am really interested in buying your chicks. Please give me a call at (760)963-1270, I am available anytime.